Wholesale Real Estate in 2021: A complete investor's guide
There are many ways you can get involved in real estate investing. Buy and hold, flipping, development, syndicating, and the list goes on. One thing is true, investing in real estate normally requires a lot of cash . . . except when you wholesale it.
Many investors are turning to wholesale real estate, or real estate wholesaling, in order to avoid the significant down payments associated with traditional buy and hold investing.
As you become a successful real estate wholesaler, you can potentially turn a few hundred dollars into several thousand dollars or more by wholesaling houses. What follows is a breakdown of everything beginners need to know about wholesaling real estate in 2021. Let's get started.
What is wholesale real estate?
So what exactly does it mean to wholesale real estate? Simply put, real estate wholesalers locate homes at below market prices, put the property under contract with a small earnest money deposit, and then assign the purchase contract to another investor in exchange for a wholesale fee.
Unlike flipping homes or doing a back-to-back closing, a real estate wholesaler never actually closes or takes possession of the property.
The key advantages of wholesaling houses include:
No mortgage or personal credit report is required
Small amount of cash earnest money, oftentimes less than $1,000
Minimal risk because you never own the property
No money spent paying handymen or contractors for needed repairs or updates
Potential to generate large amounts of cash in a short period of time
To become a successful wholesaler of real estate, you need a good network for finding deals, as well as investors to make the purchases from you. This requires a lot of hustle and networking, and is a great way to get started in real estate if you don't have a lot of time on your hands.
How to wholesale real estate
Anyone who is willing to put in the time and effort can wholesale real estate. It doesn't matter what your credit score is, you don't need to jump through hoops applying for a mortgage, and you don't need a real estate license.
As long as you have access to a small amount of cash for a refundable earnest money deposit, in-depth market knowledge, and outstanding people skills, real estate wholesaling could be a good match for you.
Here's how to wholesale real estate.
1. Build your wholesale real estate team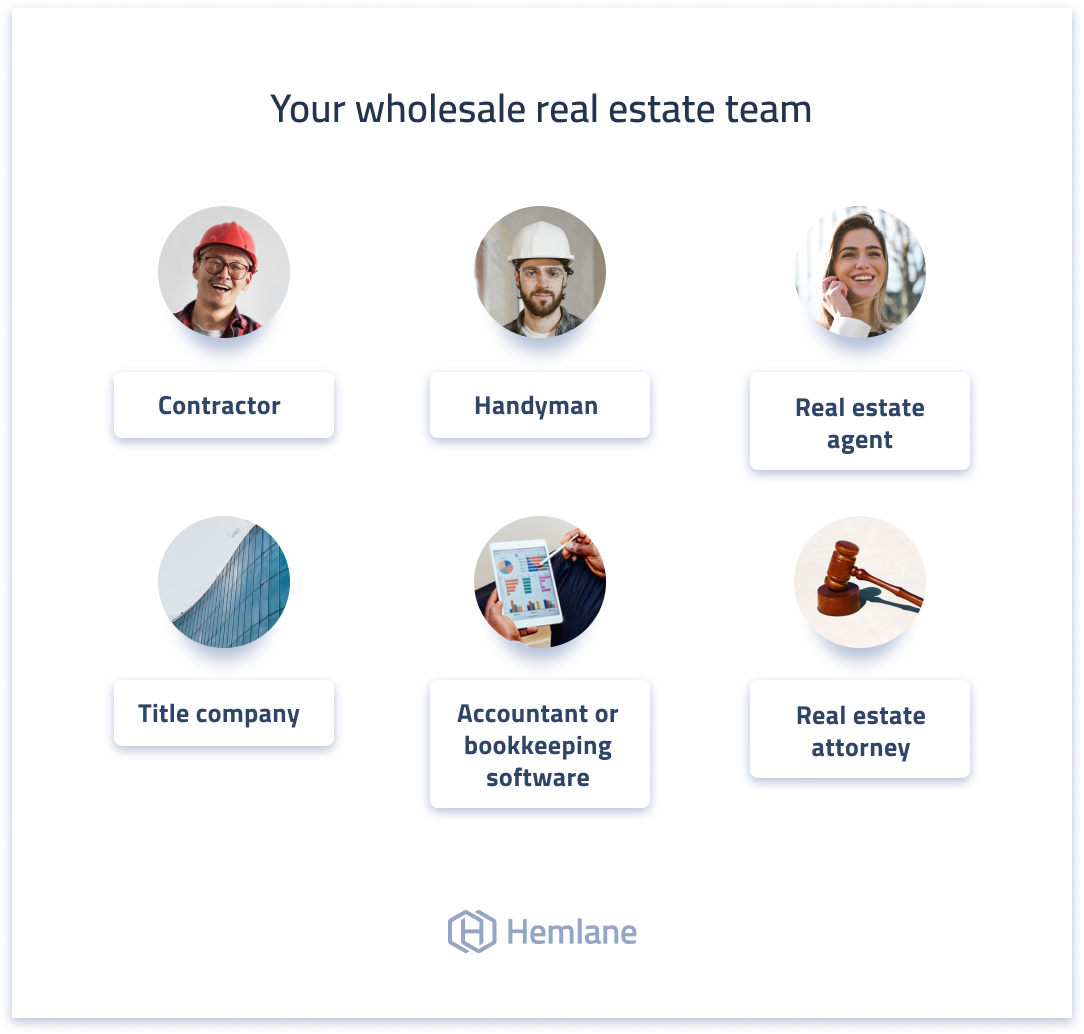 Before you begin wholesaling homes you'll need to build your team. The major players in your wholesale real estate business are:
Contractor licensed to do major structural repairs, electrical rewiring, and plumbing system upgrades.
Handyman for minor repairs such as painting, installing weatherstripping, and replacing plumbing fixtures.
Real estate agent to act as a "bird dog" and help find motivated sellers and buyers to assign the contract to.
Title company to open escrow and hold your refundable earnest money deposit.
Accountant or bookkeeping software to accurately track your income and expenses.
Real estate attorney to give you a second opinion on any deal you are working on.
2. ARV and MAO
There are two "magic" formulas to understand when you wholesale real estate: ARV (After Repair Value) and MAO (Maximum Allowable Offer).
Wholesaling houses: After Repair Value (ARV)
ARV is the value of the home after all of the repairs have been made and is the same thing as running a comparables report. Good resources to help you determine the fair market value of the property after repairs have been made are:
Multiple Listing Service. Licensed real estate agents who work in the same area can access the MLS.
Zillow is a public database that pulls comparable information from the MLS without having to use a real estate agent.
Roofstock Cloudhouse calculator if you plan on assigning the contract to a rental property investor.
Remember, as a real estate wholesaler you don't actually spend money doing any of the repairs. The buyer you assign the contract to does all of this work. You do however need to calculate accurate repair costs in order to adequately assure potential buyers that the ROI on the property is solid.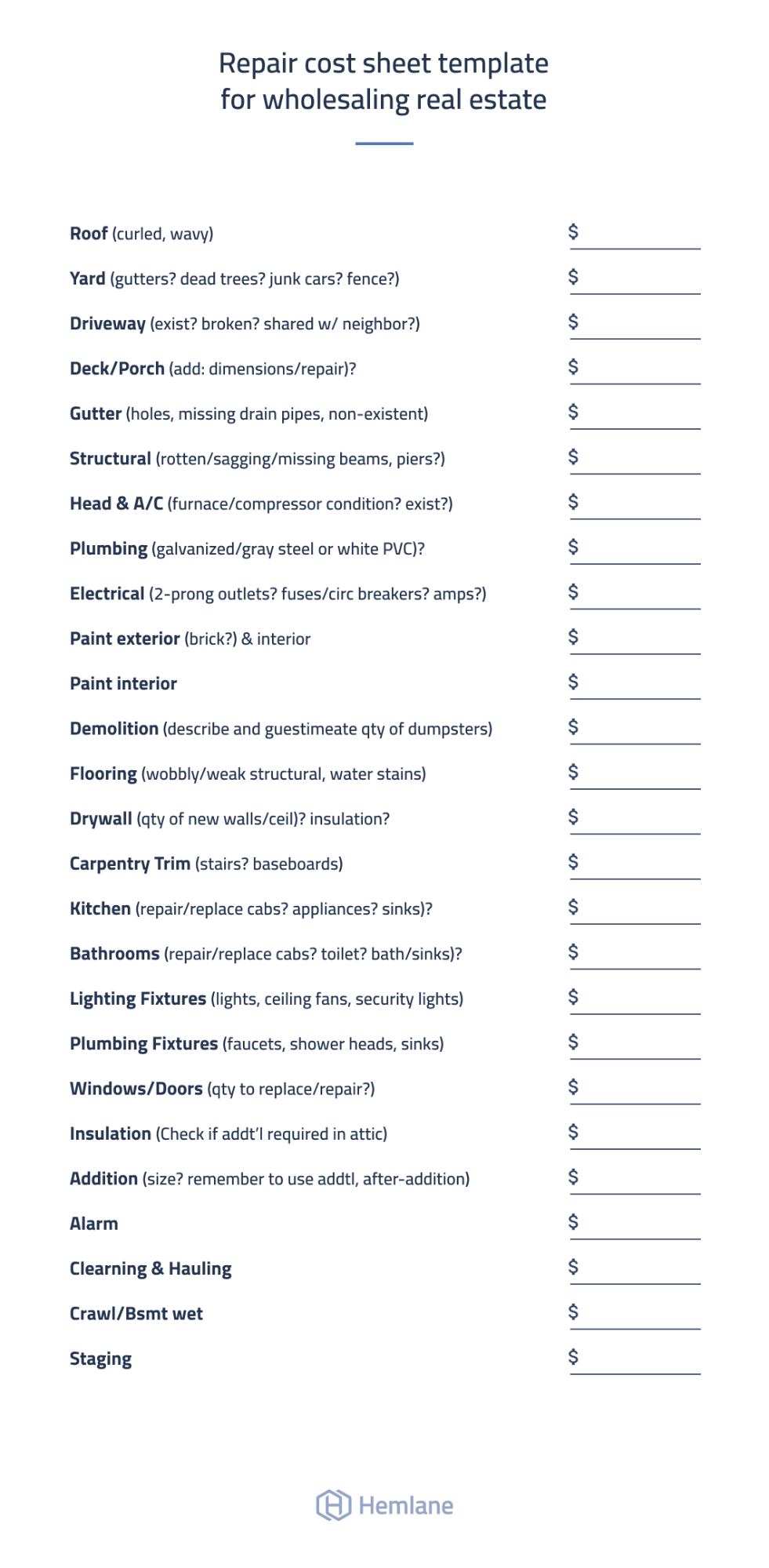 Wholesaling houses: Maximum Allowable Offer (MAO)
MAO is the highest offer you are allowed to make on a home. It's important not to deviate from this formula, because MAO determines how much potential profit you will make from the wholesale real estate.
Let's assume you locate a home with an ARV or fair market value of $150,000. According to your contractor, the property needs a new air conditioning and heating system plus other minor repairs costing a total of $12,000.
With this information in hand you can use the MAO formula to determine the maximum price you will offer for the wholesale home:
If you're wholesaling houses, as a general rule, you'd use roughly 65% to calculate your MAO. This can be higher, but be careful to not squeeze the margins too much.
(ARV x 65%) - (repair costs) = MAO
($150,000 ARV x 65%) = $97,500 - ($12,000 repair costs) = $85,500 MAO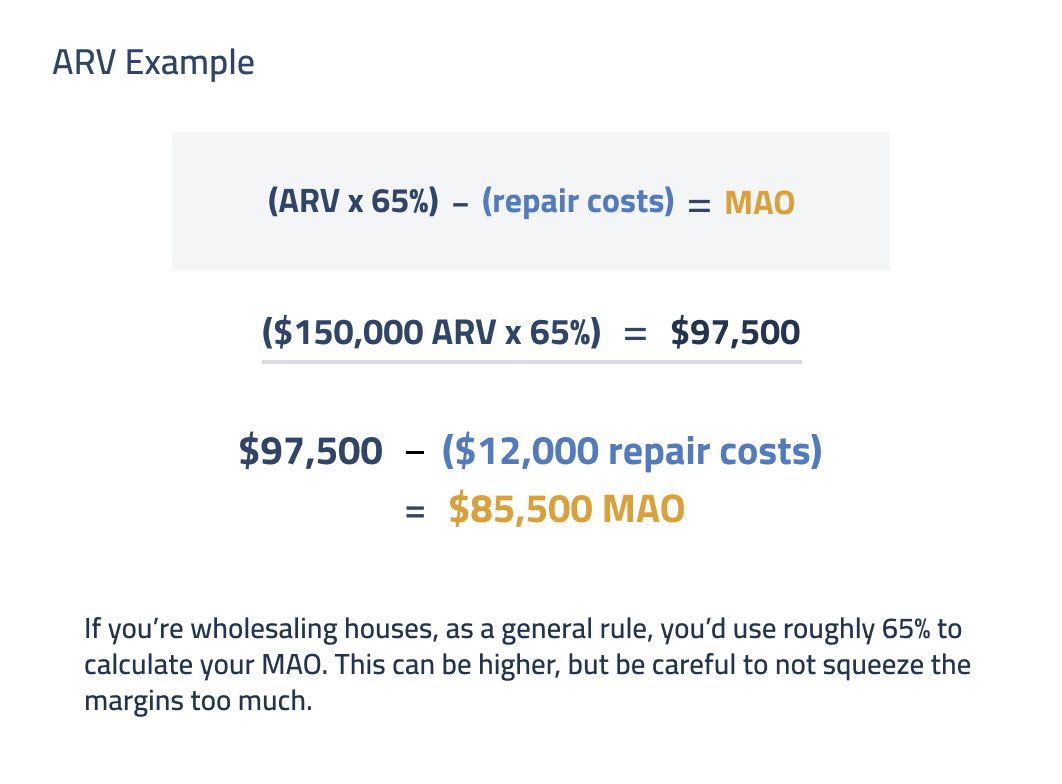 3. Finding motivated sellers when wholesaling houses
At this point, you're probably wondering why someone would sell a home worth $150,000 for just $85.5K.
To be fair, not every homeowner would sell at such a price. But there are plenty of motivated sellers with distressed property who would jump at the chance to have a real estate wholesaler take the property off of their hands.
Here are 9 great ways to find motivated sellers for your wholesale real estate business:
Absentee owners can be found on your local county assessor website – they are people who live out of state and don't have the time or know-how to manage real estate in a different part of the country.
Expired or cancelled MLS listings that go on and off the market multiple times may indicate that a seller is becoming increasingly anxious.
FSBO or for sale by owner property can be found on Craigslist or sites such as Zillow, For Sale by Owner, and FSBO.com.
Divorce notices are frequently listed in the newspaper and can also be found on the website of your local county clerk.
Probate is the legal process of administering a person's estate after their death and records can be obtained online to learn more about a deceased's home.
Pre-foreclosures and short sales are homeowners who are falling behind on their mortgage and may be one payment away from losing their home and can be found on sites such as Equator.com and RealtyTrac.
Property tax records can be found on most county assessor websites to learn if a homeowner is struggling to pay their property taxes.
Bank-owned real estate or REO property listing websites include HomePath, HomeSteps, HUD.gov, HomeSales.gov, and Wells Fargo REO Properties.
Auction websites such as Auction.com and Hubzu can also be a good resource for finding wholesale real estate deals anywhere in the U.S.
4. Best areas for wholesale real estate
Not every neighborhood is good for wholesaling houses. Generally speaking, it can be very difficult to find distressed property in areas where people have money – although you may be able to find a diamond in the rough.
To get the best return on the time and effort you invest in your wholesale real estate business, target areas in the older parts of town that have a good mixture of price ranges. Wholesaling a property at the low or middle end of the price range can provide plenty of upside to the ARV.
The target areas you choose to prospect for a wholesale property should also have a good percentage of homes that have a lot of deferred maintenance, are vacant, or even abandoned.
However, the neighborhood that you wholesale property in should also be a place where people want to live. As a real estate wholesaler, you need to understand the difference between an up-and-coming area or a neighborhood that is in long-term decline.
5. How to find buyers
When you wholesale real estate you never want to close on the property. That's why you need a pool of ready, willing, and able buyers you can assign the wholesale purchase contract to.
In fact, you should strive to have plenty of people in the pipeline who are ready to buy your next deal. Some of the top ways to build a list of buyers for your wholesale real estate business include:
Google search using "cash buyers + your city."
Auction crowds are filled with buyers who have cash ready to invest.
Investment clubs such as BiggerPockets and your local REIA are a great way to find buyers looking for a profitable deal.
Networking . . . because the most successful real estate wholesalers know that investing in real estate is as much about what you know as who you know!
Bottom line: Is wholesale real estate right for you?
Real estate wholesalers don't earn a recurring income like rental property investors do, which means you always have to hustle to get your next deal. That also means that you can get started in real estate wholesaling with very little upfront cost.
And speaking of hustling, the wholesale real estate business requires a lot of time, effort, and market knowledge and it's important for you to become the local expert in your market.
At the end of the day, if you're looking to make money in real estate with just a few hundred or thousand dollars to invest, wholesaling real estate could be the perfect match for you. Do your homework, understand the risks, and don't forget to hustle!
Finding and Selecting the Best Tenant
For a $2,000 monthly rental: You lose $1,000 if you have your rental on the market for 15 additional days. You lose $1,000+ for evictions. Learn how to quickly find and select a qualified tenant while following the law.