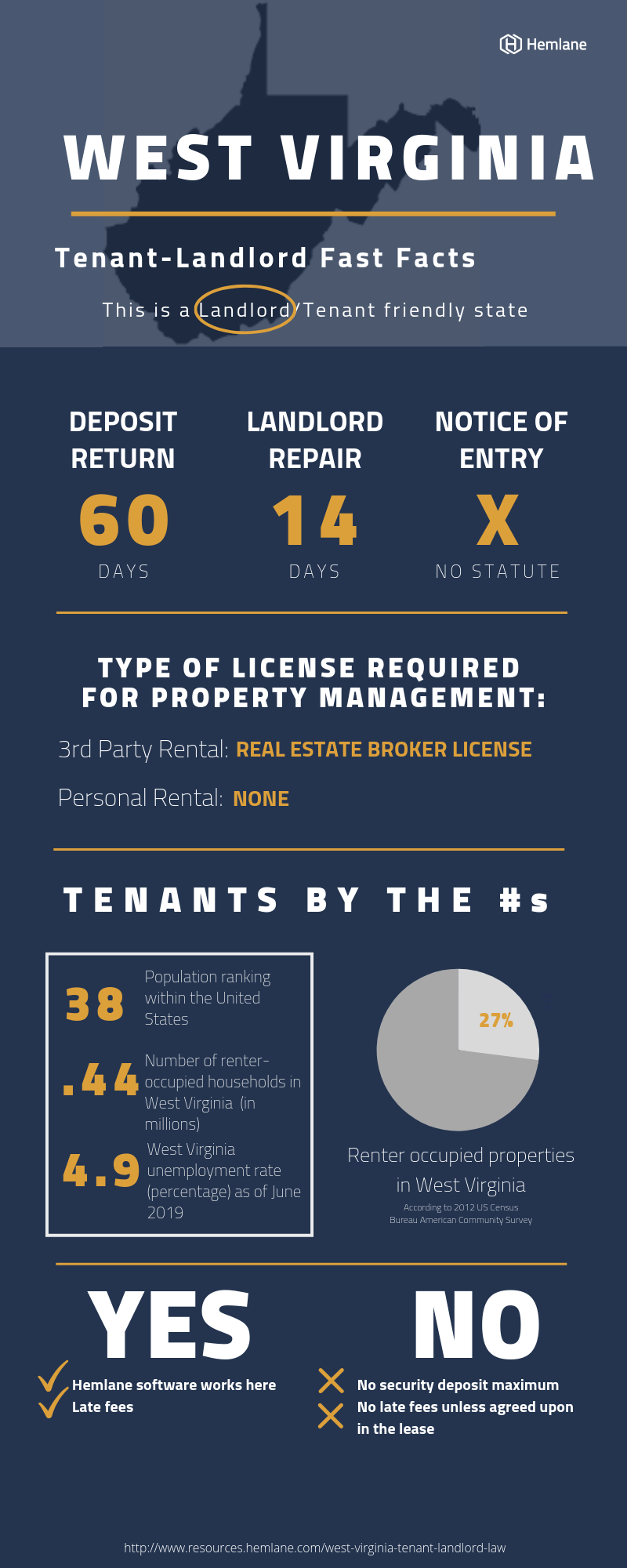 ---
Fair Housing
The Fair Housing Act was created in order to ensure that everyone is treated equally during the housing process. It protects tenants from discrimination when seraching for a rental property. At the federal level the Fair Housing Act protects the following classes…
Race
Color
National Origin
Religion
Sex
Familial Status
Disability
Learn about fair housing at the federal level here https://resources.hemlane.com/landlord-must-know-fair-housing/
West Virginia protects the same categories as federal law (W. Va. Code §§ 5-11A-1, et. seq.).
Security Deposit
Maximum Landlord Can Charge: There is no statute.

Record of Deposit Withholdings: The landlord is required to retain possession of the deposit withholdings for 1 year following the end of the lease. Upon attorney's request, records should be available within 1 hour (W.Va § 37-6A-3).

Permitted Use of Security Deposit: Following the end of a tenancy, landlords may only use the security deposit to compensate for rent due and late rent charges as agreed upon, damages to the property attributed to the tenants, outstanding utility charges, moving or saving tenant's items, and repairs or costs stated in the lease (W.Va Code § 37-6A-2(b)(1-5)).

Deadline for Returning Security Deposit: Landlords are required to return the security deposit within 60 days of the termination of the tenancy, or within 45 days of the subsequent tenant's lease. The time required is subject to the briefer period of time (W.Va Code § 37-6A-1(7)).

Security Deposit Deduction Notice Upon Move Out: A written description and itemized list of damages and related charges are to be submitted with the security deposit. Should the costs of the damages exceed the initial security deposit, the landlord must notify the tenant within the relevant duration of time: 45 or 60 days. If the landlord complies with these requirements, then an extra 15 days are allowed to prepare and deliver an itemization of the costs of the damages. (W.Va Code § 37-6A-1(7) and 2(c)).

Bank account requirements: There is no statute.

Failure to Comply: In the event that a landlord deliberately neglects to return the security deposit to the tenant within the relevant amount of time, the tenant may open a lawsuit to retrieve the money withheld. Tenants may also seek compensation for the incurred damages from a landlord's noncompliance "equal to one and a half times the amount wrongfully withheld" in the case that the tenant does not owe rent or charges to the landlord (W.Va Code § 37-6A-5).
For more information on West Virginia Landlord Tenant laws please visit their website here.