New Mexico Tenant-Landlord Law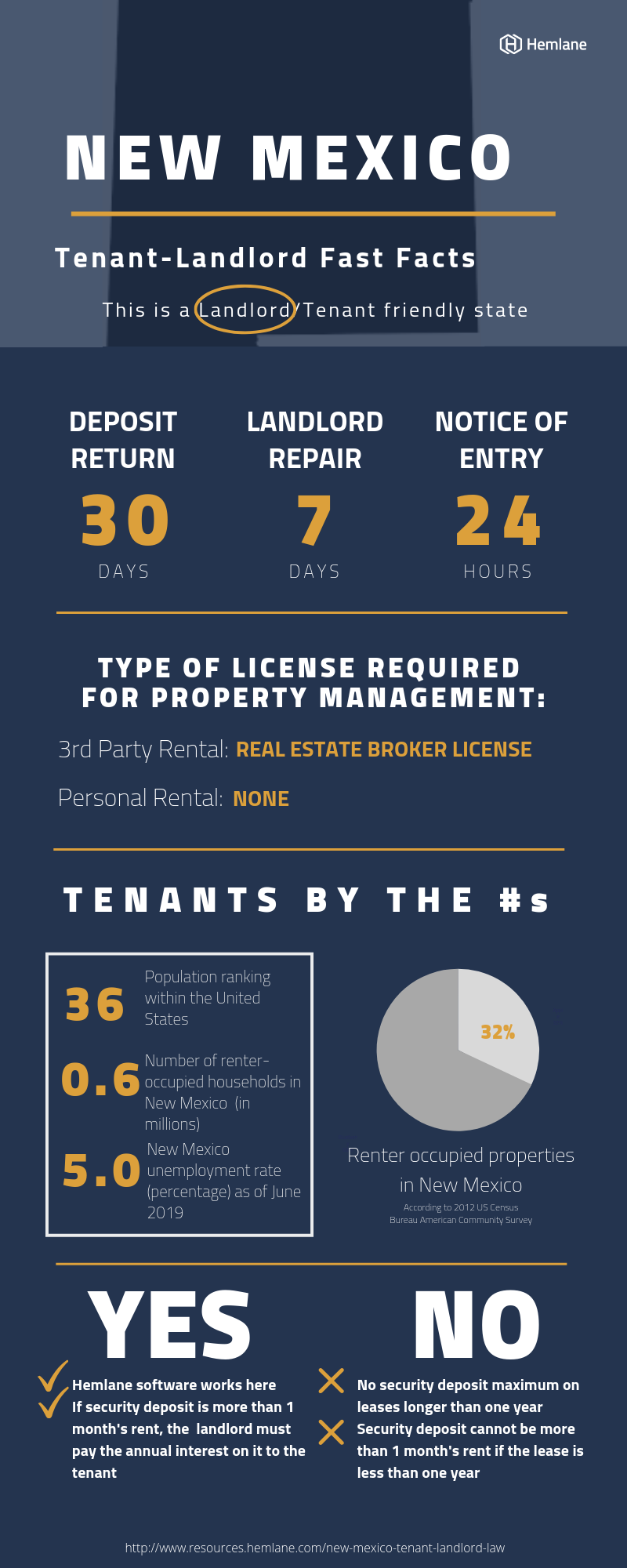 Security Deposits
Maximum security deposit: Landlords may charge a reasonable deposit. For a tenancy lasting less than a year the deposit cannot exceed one month's rent.(§ 47-8-18(A))
Security deposit interest: Landlord's must pay interest rate on deposit in accordance with the passbook rate for leases lasting more than a year. [(§ 47-8-18(A)(1))]
Seperate bank account for deposit: No law requiring landlords to keep deposit seperate from other funds.
Returning security deposit: Landlord has 30 days to return the security deposit from the date of the termination or move-out, whichever is later. (§ 47-8-18(D))
Permitted use of deposit: Payment of rent and utility costs owed. Or damages incurred due to tenant noncompliance with the rental agreement or tenant obligations. (§ 47-8-18(C))
Failure to return deposit: If landlord does not provide list of deposit deductions and the remaining balance of the deposit within 30 days of the end of a tenancy, the landlord cannot keep any portion of the deposit. THe landlord forfeit's the right to assert any counterclaim in any action brought to recover that deposit. The landlord is also liable to the resident for court costs and reasonable attorneys' fees and also forfeit's the right to assert an independent action against the resident for damages to the rental property.(§ 47-8-18(D))
Itemized list of damages: Required.(§ 47-8-18(D))
---
Rent and Late Fees
---
Notices and Entry
Notice to terminate monthly lease: 30 day written notice.(§ 47-8-37(B))
Notice to terminate weekly lease: 7 day written notice.(§ 47-8-37 (A))
Notice to terminate lease with 24 hour notice: No statute.
Notice of termination for non-payment: 3 written notice after rent is unpaid when due. Tenant may avoid termination by paying the full amount due prior to the expiration of the three-day notice. (§ 47-8-33)
Termination for lease violation: 7 day notice to remedy or quit.If there is a second instance of noncompliance within six months of the first violation, landlord may deliver a seven-day unconditional quit notice.(§ 47-8-33A)
Required notice before entry: 24-hour notice required, except when landlord enters to perform repairs or services within 7 days of tenant request. (§ 47-8-24(A)(1))
Entry for maintenance and repairs: Allowed without notice.(§ 47-8-24(B))
Notifying landlord of extended absence: If the tenant leaves the premises for more than 7 days he must notify the landlord no later than 1 day after he has left.(§ 47-8-25)
Utility shut-offs or lockouts allowed: Landlord may not turn off utilities or lockout a tenant.(§ 47-8-36)
---
Disclosures
Disclosing names and addresses of authorized personnel: Landlord must disclose any and all names and addresses of individuals who are authorized to enter the premises. (§ 47-8-19)
Copy of lease: The owner shall provide a written rental agreement to each resident prior to the beginning of occupancy.(§ 47-8-20(G))
Landlord duties: See (§ 47-8-20) for whole list of landlord duties.
Tenant duties: See (§ 47-8-22) for whole list of tenant duties.
Retaliation: Landlord must not increase rent, decrease services, or threaten or attempt to evict a tenant who has filed an official complaint to a government agency, or has been involved in a tenant's organization.(§ 47-8-39)
Lead disclosures: Landlord must disclose any known lead paint hazards in the dwelling unit. Lanlord must also provide an informational pamphlet on lead paint hazards.
---
Eviction Laws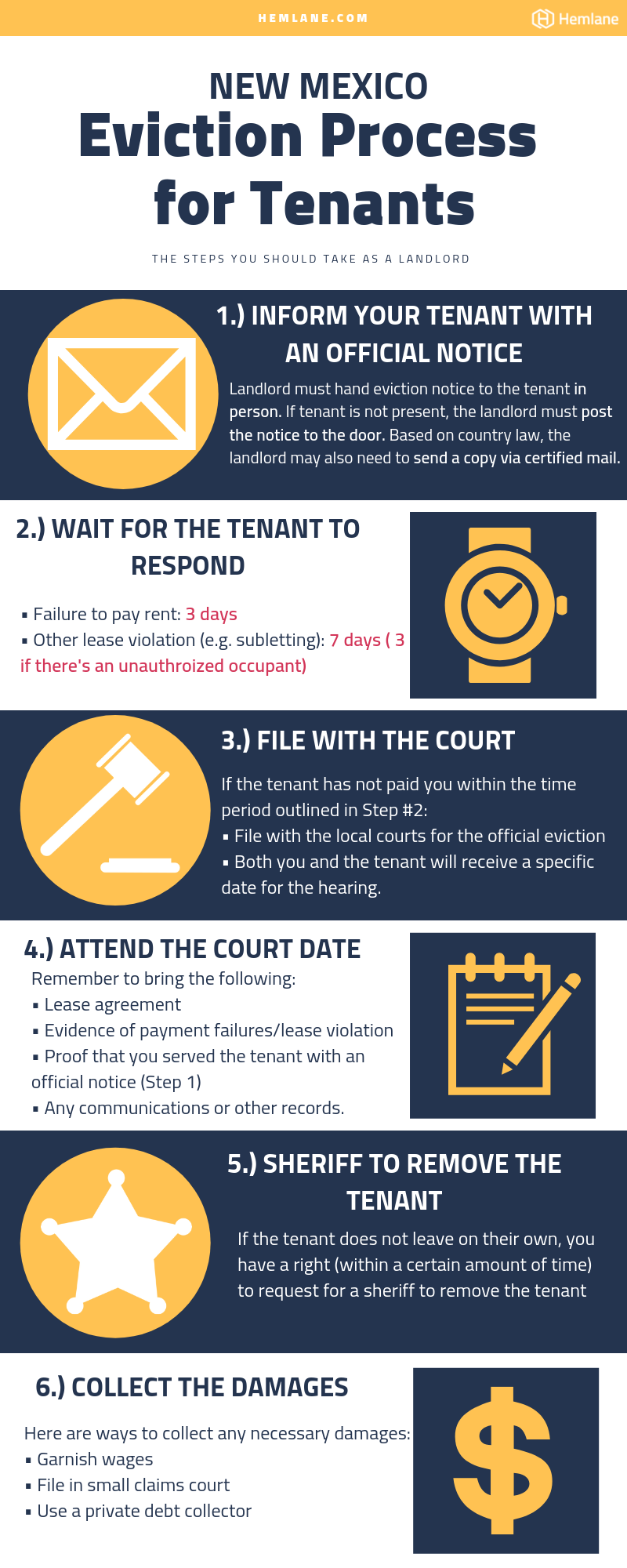 When it is failure to pay rent, the tenant has 3 days to pay you otherwise the eviction notice can be filed with the courts.

When there is another lease violation (e.g. subletting), the tenant has 7 days to resolve the violation (3 days if there is an unauthorized occupant) from the point that the eviction notice is served. Otherwise the eviction notice will be filed with the courts.

Small claims court limit: Cannot exceed $10,000.(§ 34-8A-3)

Eviction cases: Eviction cases must be filed in district or magistrate court. (§ 47-8-42)

Statue of limitations: On a written contract 6 years. On an oral contract 4 years. (§ 37-1-4)
For more information on New Mexico Landlord Tenant laws please visit their website here.
Finding and Selecting the Best Tenant
For a $2,000 monthly rental: You lose $1,000 if you have your rental on the market for 15 additional days. You lose $1,000+ for evictions. Learn how to quickly find and select a qualified tenant while following the law.