Maine Tenant-Landlord Law
The most stressful part of property management is when something goes wrong in such a way as to result in an eviction.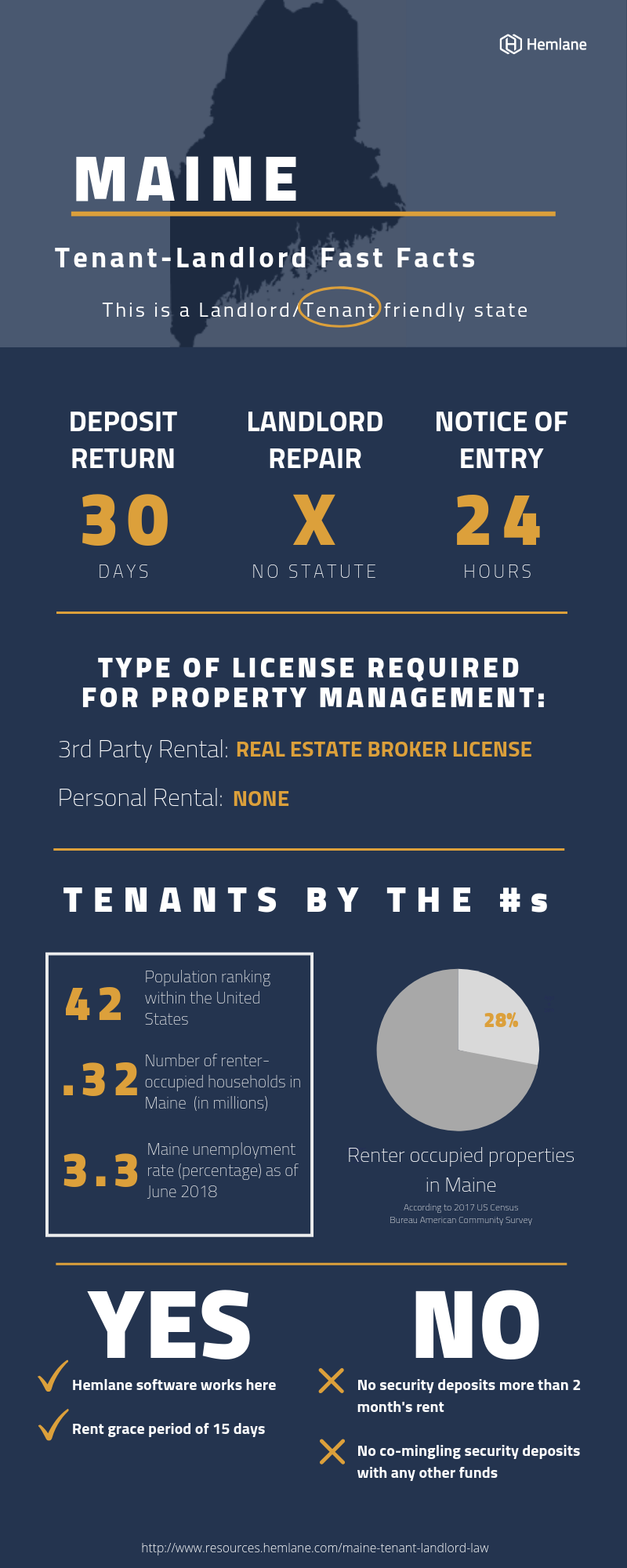 ---
Fair Housing
The Fair Housing Act was created in order to ensure that everyone is treated equally during the housing process. It protects tenants from discrimination when seraching for a rental property. At the federal level the Fair Housing Act protects the following classes…
Race
Color
National Origin
Religion
Sex
Familial Status
Disability
Learn about fair housing at the federal level here /landlord-must-know-fair-housing/
Maine protects the same categories as federal law.
(ME Rev. Stat. Title 5, Part 12, Ch. 337 §4582)
Security Deposits
Rent and Late Fees
Notices and Entry
Landlord Access to Property: Landlord may enter property during reasonable times and with notice, presumably of 24 hours. No notice needed in an emergency (§6025(2)).

Notice of Entry With Extended Tenant Absence: No statute.

Notice to Terminate Lease with Fixed End Date: Cannot terminate lease with fixed end date in rental agreement, unless tenant or landlord significantly breaches the rental agreement (§6001(1)(A) and (B)).

Notice to Terminate Lease with No Specified End Date: Required notice of at least 30 days. Landlord must inform tenant of right to challenge cessation of lease. With minimum notice of 7 days, can terminate lease for nonpayment, damages, nuisance or breach of law (§6001(1)(B) and §6002).

Notice to Terminate Month-to-Month Lease: Required notice of at least 30 days (§6002).

Notice to Terminate Week-to-Week Lease: Required notice of at least 30 days (§6002).
Disclosures
Duties of Landlord:
Lead Disclosure: Landlord must notify tenant of activity and risk of environmental lead hazard. Must give 30 days notice before activity begins (§6030(B)).
Retaliation: Presumed if, within 6 months prior to landlord's action, the tenant defended rights specified in §6021 or §6030(D) complained about landlord's violation of required codes or filed a notice of violation, submitted a written request for repairs, filed a fair housing complaint, or provided notice that tenant or a minor is a victim (§6001(3)).
Eviction Laws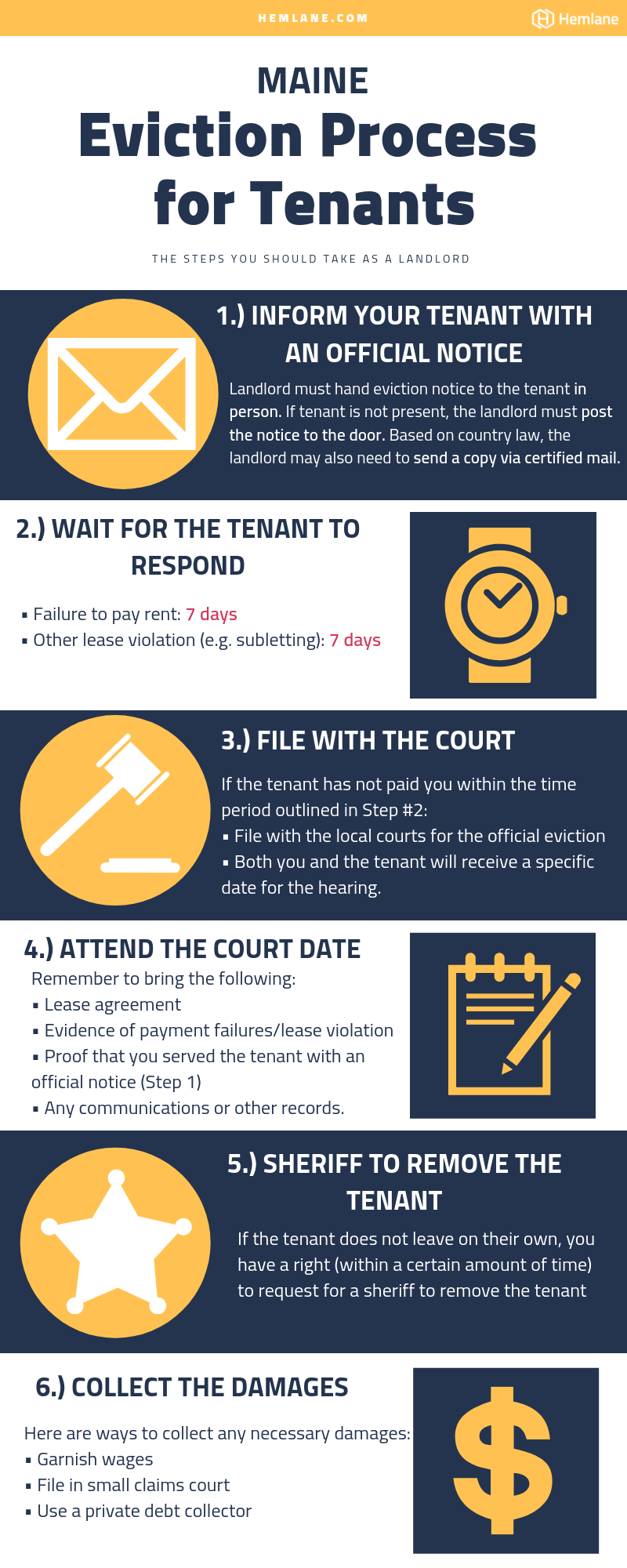 Notice of Termination - Nonpayment: Required notice of at least 7 days, if rent has not been paid within a week of the day rent is due (§6002).

Notice of Termination - Lease Violation: Required notice of at least 7 days if the tenant 1) changes locks and denies landlord a key, 2) causes considerable damages to property that do not get fixed, 3) causes or allows a nuisance on property, 4) violates the law, 5) fails to maintain habitable conditions (§6025) and §6002).
---
For more information on Maine Landlord Tenant laws please visit their website here.
Finding and Selecting the Best Tenant
For a $2,000 monthly rental: You lose $1,000 if you have your rental on the market for 15 additional days. You lose $1,000+ for evictions. Learn how to quickly find and select a qualified tenant while following the law.