How to Survive the Future of Home Sales in California
According to CAR's December 2018 housing report, the market continues to soften despite the most recent decline in interest rates. December 2018 sales were at the lowest level since January 2015, and this is across all home sale ranges.
While the macroeconomy is forecasted to remain strong in the upcoming year, California home prices are expected to remain flat due to anticipated increases in interest rates, questions on affordability, and a prolonged government shutdown.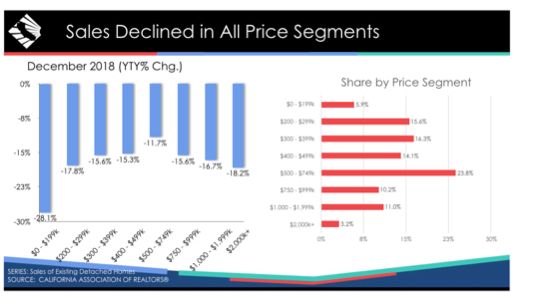 Without strong growth in the housing market, REALTORS® will have a difficult time increasing income in 2019. The smartest REALTORS® will leverage technology to automate administrative tasks, provide transparency, and offer a better user experience to their clients. But more importantly, these REALTORS® will extend their interpersonal skills to prove their value in other real estate activities.
The secret to increasing income for REALTORS® in 2019

The best way to achieve this financial goal in 2019 is to offer additional services to your clients.  We have found the fastest and most successful service is leasing for clients who own rental properties. Nearly half of California primary residences, 45.5 percent, are renter-occupied. This is above the nationwide average of 36 percent, or 42 million, of residences which are tenant-occupied.  

What is the math behind leasing rental properties?

1 leasing per month x $2,000+ per leasing = $24,000+ per year

For an agent who makes $65,000 per year, this increases income by over 20 percent. And, higher priced rentals reap even more benefits with leasing.

The best part is, after mastering leasing, REALTORS® can offer lite management services to clients and achieve consistent, reliable, and recession-proof income.
What about liability with leasing and management?

In the past, there was a tremendous amount of liability with leasing and management. An agent would have to learn new skills—from reading tenant screening reports to setting up trust accounts—and also be available to pick up 2AM maintenance calls.

New technology has helped reduce and eliminate certain liabilities, providing an even stronger case for offering these services. Here are just a few ways this liability has been reduced:

Fair Housing with Rental Advertising: Did you know that adding "Great family neighborhood" to your rental property description can be considered a Fair Housing violation? It discriminates against tenants who may not have a family. Technology can pick up on keywords and terms and flag them, ensuring the agent's promotions are never considered offensive.    

Laws on Tenant Selection: With HUD laws, REALTORS® should be very mindful of making decisions when selecting tenants. Only objective criteria can be used to select the tenant, and it should be noted that Fair Housing recommends choosing the first qualified applicant in California. New technologies provide algorithms to make a tenant recommendation, helping you and your client make the decision.

Trust Accounts with Rent Collection: Any tenant funds need to be held in a trust account before an agent sends the money to the rental owner. What a pain, right? Specific property management tools can transfer the rent direct to the owner from the tenant, eliminating the need to create a trust account.

Requiring 24/7 Maintenance Coordination: Property managers must be available for tenant emergencies, such as water leaks and nonfunctional heating units in cold weather. As someone who focuses on sales, being available 24/7 to address these requests is downright burdensome. This can be moved to a professionally trained US-based maintenance coordination team, taking that stress off the agent.

Setting up the right process is the secret to a successful and lucrative new income stream. Best of all, REALTORS® can reap the benefit of building stronger relationships that lead to future sales. Here is one quote from an agent who does property management through Hemlane:

I am building stronger relationships with my existing clients. And in my first rental property, the selected tenants had recently relocated from Wisconsin. They reached out to me to help them find a new home, and I got another unexpected sale!

- Wei Song, WPI Real Estate
How to maintain income growth in future years.

Leasing is the first step to building relationships. As an agent continues to support their clients with management, from annual check-ins to quarterly financials, they offer a valuable service that is beyond a transaction. Working with rental owners and professional real estate investors can help increase the number of sales per client.

REALTORS® can reinvent their brand by leveraging strong technology and services to manage their leasing and management, while still serving as the face of their real estate brand.

Finding and Selecting the Best Tenant
For a $2,000 monthly rental: You lose $1,000 if you have your rental on the market for 15 additional days. You lose $1,000+ for evictions. Learn how to quickly find and select a qualified tenant while following the law.