How to Become a Landlord the Right Way [not accidentally!]
Some people become landlords accidentally. They didn't want to be a landlord, but life circumstances got in the way and changed that. For example, ending up with a second home after a divorce, or inheriting a property from a long lost uncle. Maybe you bought a new home and can't sell your old one, or it's not the right market to sell. So, you're forced to rent it out.
For most real estate investors, owning and managing a rental property happens on purpose after a lot of research and deliberation. But for some, it happens involuntarily. And that's OK!
Either way, in this article we'll explain the 10 steps to follow to become a landlord the right way, to help you get the biggest return possible after all of the hard work you've put in. Whether you've chosen to begin investing in real estate, or have fallen into it by happenstance, here's how to optimize your property management and make the best use of your new investment asset.
Step #1: Do your homework
Becoming a landlord begins before you buy your first rental property. You'll need to understand your local and state landlord-tenant laws and the Fair Housing Act.
Some cities are more landlord-friendly than others, so it makes good business sense to invest in an area where the law treats everyone fair and square.
Read blogs, sign up for newsletters, and make sure you're educating yourself on all the ins and outs of real estate investing and management.
Also, you need to decide what type of property you want to invest in. Generally speaking, there are different classes of properties — A, B, and C. Higher-end, newer, and luxury properties fall into the Class A category of rental housing. These assets attract higher rents, but are also more expensive to acquire and maintain.
Class B properties are fairly standard units that attract middle-class tenants in decent neighbourhoods like the suburbs. Class C properties are generally in lower-income neighbourhoods, and typically in need of repair and/or maintenance due to the age of the building. As you can imagine, Class C units are cheaper to acquire, but maintenance issues tend to arise more frequently.
Step #2: Analyze investment opportunities
Oftentimes the best real estate investments are found in a different city or state. With the growth of remote real estate investing, it's easier than ever to find affordable rental homes to own in smaller markets across the country.
When you analyze different real estate markets for the best opportunities, look for areas where jobs and population are growing, vacancy rates are lower, and the percentage of renter-occupied households is on the rise.
You also need to become intimately familiar with using and populating a proforma so you know whether or not certain investment opportunities will be cash flow and ROI positive.
Step #3: Crunch the numbers
Once you've located a good rental property, run rent comps to analyze the fair market rent instead of believing what the seller says. There are really good sources for online rental comps.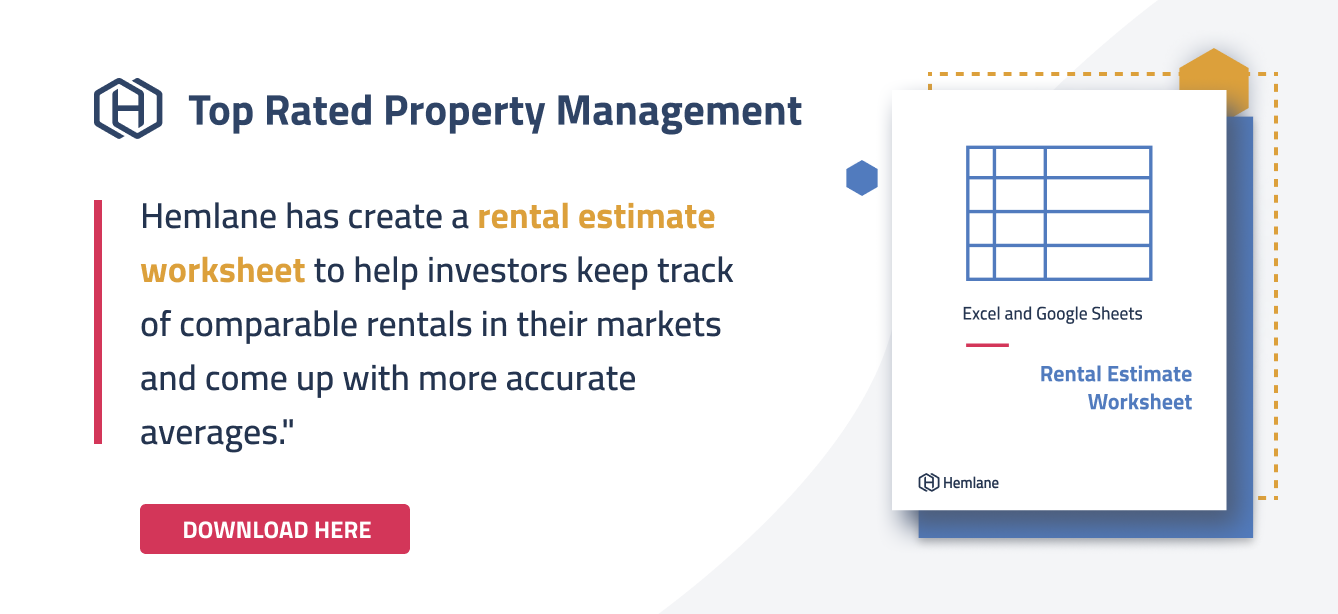 After you know what the going rent is for similar homes in the same market, crunch the numbers by using financial metrics such as gross rent multiplier (GRM), cap rate, cash-on-cash (CoC) return, and net operating income (NOI) to ensure you're making the most from your investment dollar.
Step #4: Prepare a budget
Now that you know what your gross rental income is likely to be, the next step is to calculate your expenses.
If you're buying a rental property from another investor, ask for a copy of the rent roll to get an idea if vacancies are trending up or down, the profit and loss statement (P&L) for the current year and the past three years, and a copy of the seller's tax return to verify that the income on the P&L is what is actually being reported to the IRS.
It can be a little bit trickier to estimate operating expenses if a property is being used as a rental for the very first time.
Many investors use a rule of thirds, which states the operating expenses excluding the mortgage take up about a third of the gross income. For example, if your monthly rent is $1,200, your yearly gross income will be $14,400, of which roughly 33% (or $4,752) would comprise expenses. Next, you need to ensure that your debt service cost still leaves you with positive cash flow each month.
Or, you can speak with a qualified property manager or realtor in the market who handles rental property just like yours to get a real-time view of what expenses are likely to run.
Step #5: Hire a property manager
While literally anyone can invest in real estate, the truth is that not every investor is cut out to be a landlord. Whether you're a remote investor, or have a growing portfolio of rentals, there comes a time when everyone has to consider hiring outside management.
Although most property management companies charge a monthly fee of around 10% of the gross rent collected, most real estate investors find that paying for property management support is more like an investment and not an expense. Yet, the majority of rental properties, greater than 70% are not managed by a traditional property manager.
When it comes to property management, you generally have three options:
DIY: Manage everything yourself from tenants, to contractors, to leases. This is the cheapest route, but obviously the most time-consuming and potentially stressful.
Traditional property management: You can hire a full property management company to handle everything at your properties soup-to-nuts. This generally is expensive, as you're no longer doing any work involved in property management. Also, this also means you're less connected to your assets, unless you set up a strict reporting schedule between you and the management company.
Property management services: Platforms like Hemlane allow investors to leverage the contractors and the services used by traditional full service property management firms, without the higher associated costs.
Step #6: Market your rental
Online tools are the best way renters shop for a new place. In fact, 83% of all renters use an online resource, including everyone from Gen Z, Millennials, and Baby Boomers.
Rental listing websites such as Zillow, Apartment Finder, Homes.com, and Rent.com receive literally millions of visits from qualified tenants each and every month looking for a place just like yours to call a home of their own.
Step #7: Thoroughly screen tenants
Landlords can also thoroughly screen tenants entirely online. Most tenant screening services collect the application fee directly from the prospective renter, which helps to weed out the people who aren't really serious about renting your home.
A thorough tenant screening process includes running a credit report and background check, a rental history report to learn if the tenant has ever been evicted, and landlord and employment references.
Step #8: Lease & security deposit
A lease agreement is a binding legal document between the landlord and tenant. Leases outline items such as the amount of rent due and when, who pays for utilities, extra fees for roommates and pets, and landlord responsibility for maintaining the property in a safe and habitable condition.
The residential lease agreement also lists the amount of refundable security deposit and whether the deposit can be used to pay for items such as damages beyond normal wear and tear or costs in the unlikely event of an eviction.
In many states, landlords can collect a security deposit from the tenant equal to one or two months of rent.
For a residential lease agreement, ask your leasing agent, property manager, or download free lease templates through a search engine. Hemlane also offers a free guide to leasing.
Step #9: Repairs and maintenance
Fill out a move-in checklist when the tenant moves in to document the condition of the property and any open item repairs using photos, videos, and detailed notes. Sign the checklist, give one copy to the tenant, and keep another copy in the tenant's file. When the tenant moves out, you can compare the move-in and move-out checklists to identify any damage beyond normal wear and tear.
As a landlord, the better you maintain the property the greater the odds are that a good tenant will renew their lease year after year, even with annual rent increases.
General landlord maintenance responsibilities with a rental property include routine maintenance and repair such as electrical problems or plumbing leaks, pest control, landscaping, and seasonal servicing of the heating and cooling units.
Begin to build your maintenance checklist and procedures, or ensure that your property management company has these types of checklists in place.
Step #10: Get organized
In order to maximize the tax benefits of owning rental real estate (and protect yourself in case of an audit) it's crucial to stay organized. Cloud-based storage systems such as Dropbox, Microsoft OneDrive, iCloud, and Google Drive are easy to use and act as a back-up to hard copies of documents kept in your home office.
Also, there is property management specific software that does document storage and organization like Hemlane.
Here, you can store all your paperwork including MLS reports and closing statements, appraisals and inspection reports, rental applications and lease agreements, move-in and move-out checklists, receipts for income and expenses, and insurance documents.
Conclusion
Being a landlord isn't always easy, but investing in rental real estate can be incredibly profitable and rewarding when you go about it the right way. Whether you deliberately or accidentally became a landlord, you can implement these tactics to ensure that you are as successful as possible.
Always be sure to do your homework, know your financial metrics before you invest, and thoroughly screen prospective tenants to find the most qualified renters for your property. And make sure you set yourself up with the best tools and team for your ongoing management.
Finding and Selecting the Best Tenant
For a $2,000 monthly rental: You lose $1,000 if you have your rental on the market for 15 additional days. You lose $1,000+ for evictions. Learn how to quickly find and select a qualified tenant while following the law.