Hawaii Tenant-Landlord Law
The most stressful part of property management is when something goes wrong in such a way as to result in an eviction.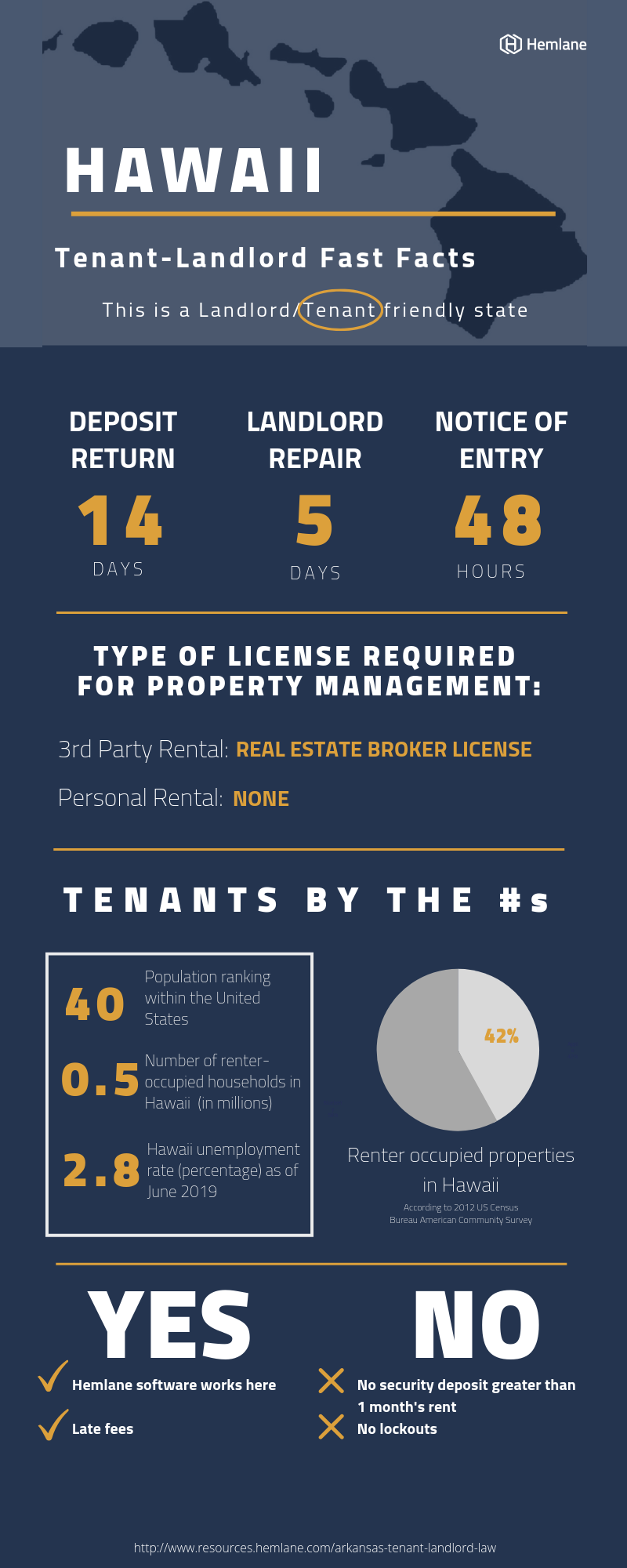 ---
Fair Housing
The Fair Housing Act was created in order to ensure that everyone is treated equally during the housing process. It protects tenants from discrimination when seraching for a rental property. At the federal level the Fair Housing Act protects the following classes…
Race
Color
National Origin
Religion
Sex
Familial Status
Disability
Learn about fair housing at the federal level here /landlord-must-know-fair-housing/
In addition to federal fair housing laws, Hawaii's state laws prohibit housing discrimination based on…
Ancestry
Marital status
Age
HIV infection or sexual orientation
Gender identity
(HRS § 515-3)
---
Security Deposits
---
Rent and Late Fees
---
Notices and Entry
Notice to terminate fixed end lease: No notice requirement, termination is automatic. (p. 13 handbook)
Notice to terminate yearly lease with no end date: No law.
Notice to terminate month-to-month lease: Landlord must give 45 days notice in writing, while tenant must give 28 days notice in writing.§521-71
Notice to terminate week-to-week lease: 10 days written notice.
Immediate termination of tenancy: If the tenant threatens or causes damage to any person or constitutes a violation of section §521-51
Notice of termination of all other leases for non-payment: 5 days to pay rent or the rental agreement will be terminated. §521-68
Notice to terminate for nuances: If nuance is not remedied after 24 hours, landlord may terminate tenancy after 5 days.§666-3
Required notice before entry: Landlord must give 2 day notice before entering dwelling unit, and may only enter for necessary concerns such as repairs, alterations or improvements, as well as to exhibit the unit to prospective purchasers, mortgagers, or tenants.§521-53
Tenant notice of extended absence: the tenant must notify the landlord of any anticipated extended absence from the dwelling unit no later than the first day of such absence, if agreed upon in the rental agreement. §521-54
Tenant's responsibility to inform landlord: Tenant must notify landlord immediately of any defective conditions on the premise, which the tenant believes is not known to the landlord. §521-55
Lockouts and utility shut offs: Both are not allowed, and if the landlord does so the tenant may recover an amount equal to 2 months rent or free occupancy for two months, and the cost of the lawsuit, including reasonable attorney's fees. §521-63
---
Disclosures
Disclosing authorized personnel to tenant: Landlord must give the names and addresses of any individual who manages the premise, or any person who is allowed to act on the behalf of the owner for things such as receiving rent, notices, demands, as well as providing services. (§521-43(a)(b))
Landlord duties; (§521-42)

Compliance; comply with building and housing laws which would affect health and safety.
Repairs; make all repairs necessary to keep premise livable.
Common areas; Keep common areas in clean and safe condition.
Maintenance; Maintain electrical, plumbing and all other facilities.
Trash; Provide trash cans for the removal of normal amount of trash.
Water; provide running wanter

Abandoned personal property of tenant: Landlord may sell, store, or donate any items of value the tenant has left behind following the natural expiration of the term or if the tenant has quit the premise. Landlord may only due so after 15 days of mailing a notice to the past-tenant. (§521-56)
---
Eviction Laws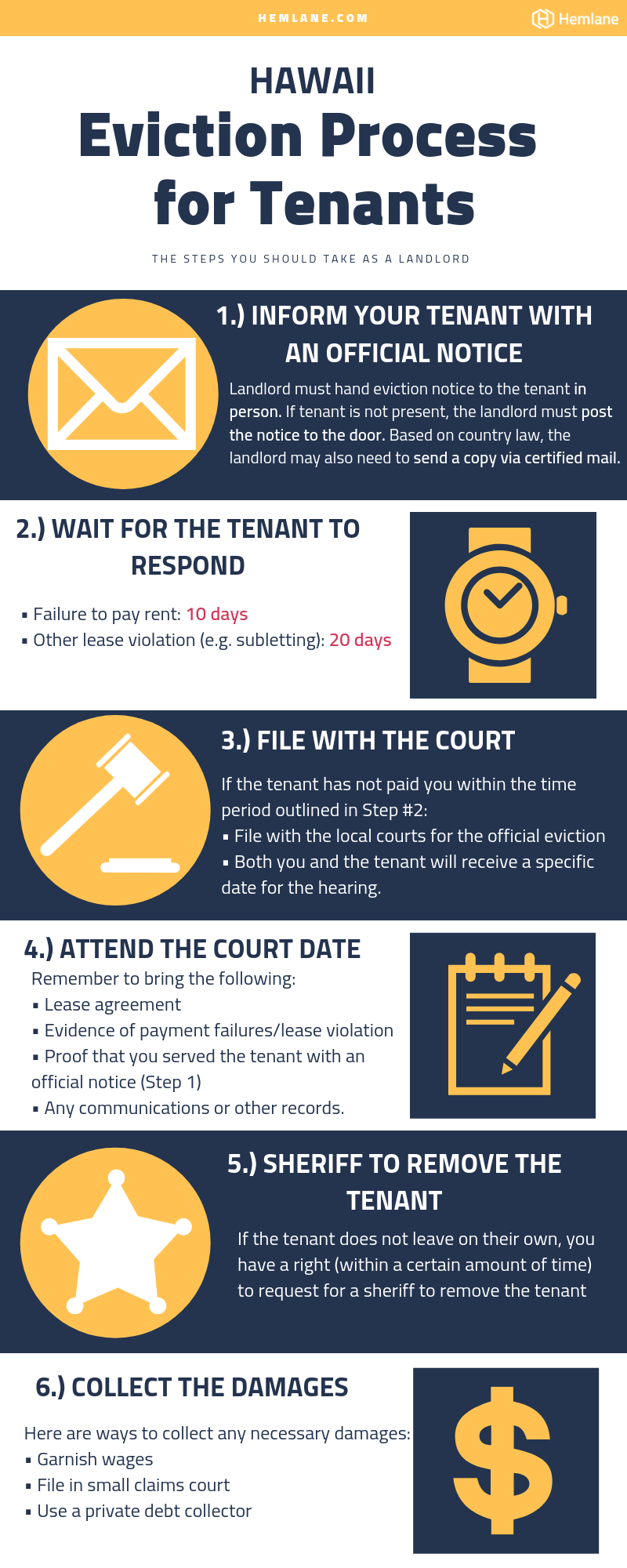 For more information on Hawaii Landlord Tenant laws please visit their website here.
Finding and Selecting the Best Tenant
For a $2,000 monthly rental: You lose $1,000 if you have your rental on the market for 15 additional days. You lose $1,000+ for evictions. Learn how to quickly find and select a qualified tenant while following the law.